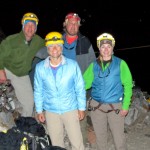 By Shelli on August 11, 2009
When I step onto the summit, I'm at first at a loss for words. The sights are astounding – truly awesome. I choke up, briefly, fighting back some happy tears, and I have goose bumps.
The views are beyond words. No photos or videos I capture can possibly do justice in conveying what I'm experiencing right this moment. I want for the feeling to last.
And aside from the awe-inspiring sights and resulting goose bumps, I want to explode and frolic and yell at the top of my lungs in response to our accomplishment.
Posted in National Parks, Travel & Tourism | Tagged climbing, expedition, grand teton, grand teton national park, jackson hole mountain guides, mountaineering, summit | 12 Responses