Browse:
Home
/
mountaineering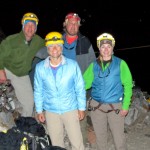 By Shelli on August 11, 2009
When I step onto the summit, I'm at first at a loss for words. The sights are astounding – truly awesome. I choke up, briefly, fighting back some happy tears, and I have goose bumps.
The views are beyond words. No photos or videos I capture can possibly do justice in conveying what I'm experiencing right this moment. I want for the feeling to last.
And aside from the awe-inspiring sights and resulting goose bumps, I want to explode and frolic and yell at the top of my lungs in response to our accomplishment.
Posted in National Parks, Travel & Tourism | Tagged climbing, expedition, grand teton, grand teton national park, jackson hole mountain guides, mountaineering, summit | 12 Responses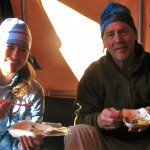 By Shelli on August 8, 2009
We all agreed that the Grand Teton summit would be not be as formidable after today's experiences. In fact, it now seems like a much smaller mountain, in mind at least, given the tests we faced, and passed, today.
I'm not sure if that's what the guides had intended with today's climbing instruction, but at this moment, I feel certain it will serve us well on tomorrow's Grand Teton ascent. But no doubt, we'll need to cowboy up for the event.
Posted in National Parks, Travel & Tourism | Tagged climbing, expedition, grand teton, jackson, jackson hole mountain guides, mountaineering, national park, wyoming | 3 Responses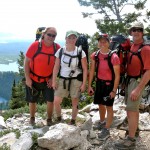 By Shelli on August 7, 2009
This is Part 3 in a 6-part series about my recent Grand Teton Expedition. For previous posts, here is a pre-trip post and a recap. It is 9 am and we are headed to the Lupine Meadows trailhead. Most of us are caffeinated; all of us are awake, and our eagerness to get the show […]
Posted in National Parks, Travel & Tourism | Tagged climbing, expedition, grand teton, jackson, jackson hole mountain guides, mountaineering, national park, wyoming | 4 Responses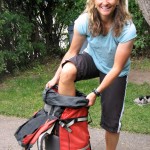 By Shelli on August 5, 2009
(Click here for a pre-trip post I wrote.) I sit here today rested and showered, a little stiff and sore, and completely exhilarated. You see, yesterday I returned from my successful Grand Teton summit expedition. For some photos, click here. (BTW, thanks to Jason Kintzler and Brunton. Thanks to Brunton's solar power and battery pack, […]
Posted in National Parks, Travel & Tourism | Tagged climbing, expedition, grand teton, jackson, jackson hole mountain guides, mountaineering, national park, wyoming | 10 Responses
By Shelli on July 29, 2009
From Aug. 1-4, I'll find myself on a guided expedition to summit the Grand Teton. I can't believe it, and I can't wait! The Grand Teton is a 13,770-foot-tall, rugged, beautiful peak in western Wyoming that I've looked at in awe many times. It is the tallest mountain in Grand Teton National Park, and the […]
Posted in National Parks, Travel & Tourism | Tagged climbing, expedition, grand teton, jackson, jackson hole mountain guides, mountaineering, national park, wyoming | 7 Responses