lifestyle
You are browsing the lifestyle tag archive.
October 16, 2012 | Posted in Fitness, Life and Leadership | Tagged fasting, lifestyle, nutrition, weight loss | 3 Responses
Hi there! Some of you may have followed my blogging during my two-year weight loss journey, from March 2009-March 2011. Today, I'm starting another experiment that is related to my health:
Note: I will blog here every Wednesday about what I'm learning, starting tomorrow, Oct. 17. Thanks, in advance, for your support.
Posted in Fitness, Life and Leadership | Tagged fasting, lifestyle, nutrition, weight loss | 3 Responses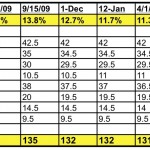 February 1, 2011 | Posted in Family, Fitness, Life and Leadership | Tagged diet, exercise, fat loss, Fitness, lifestyle, nutrition, personal training, training, weight loss | 14 Responses
This is Post 33 of my fitness/weight loss journey blogging.
Today marks The End to something that has been very significant to me: My weight loss journey.
Just under two years ago, I weighed almost 160 pounds and was chubby and pretty lazy. Today, I am smaller than I've been since high school and yet stronger and [...]
Posted in Family, Fitness, Life and Leadership | Tagged diet, exercise, fat loss, Fitness, lifestyle, nutrition, personal training, training, weight loss | 14 Responses