By Shelli on April 6, 2012
Our three young sons, Wolf, Hayden and Fin, ages almost-12, 10 and almost-5, are producing a video reality show series called STALKING BIG FOOT IN WYOMING. So far, they've published 7 episodes. (Watch for a new episode every Saturday). I'm biased, I know. But. Still… The shows are funny. Please check 'em out, and share […]
Posted in Family | Tagged big foot, funny, sasqatch, spoof | Leave a response
By Shelli on May 16, 2010
Well dang nabbit. I recently recorded this video clip in an effort to win a new bicycle from Bicycling Magazine. Unfortunately it didn't make the cut. But it was a hoot to make and I'd do it all over again. Enjoy!
Posted in Family, Frontier Life | Tagged bicycling, biking, funny, spoof | 1 Response
By Shelli on March 19, 2010
(In addition, you can access 23 other FITNESS posts I've blogged, all of which are much more serious than this one.) Here is a 10-minute "metabolic training video" I made in honor of my coach and friend, Steve Bechtel, who turns 40 years old today. Enjoy! And, please consult a doctor before trying these exercises. […]
Posted in Fitness | Tagged fat loss, Fitness, funny, steve bechtel, training, video spoof | 1 Response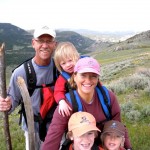 By Shelli on September 6, 2009
So, you'll recall from a previous post that my husband, Jerry, recently had a 4-level neck fusion operation. He's doing great, but part of his rehab requirement is to be on his best behavior. (Read, no lifting or bending his neck, etc.)
As part of his rehab I've had to take over most of the "heavy lifting" at home. I knew Jerry was a huge help, but now I really know. Now on my list of things to do is scooping up the dog's poop and hauling garbage.
At the same Jerry's rehab started, school started. Our older sons, Wolf and Hayden, ages 9 and 7 respectively, have new chore lists as a result.
They are now scooping Taiga's poop among other dirty chores. I'm grateful to their help I can tell you that! For the record, Fin, our 2-year-old son, is trying to help them as well.
Wolfie has ambitions to be a movie producer. So it was his idea to create "Dirty Jobs" episodes while capturing them doing some of the yuckier chores they now have as their responsibilities. Here is Episode 1 – waiting for, and then disposing of our husky, Taiga's, scat.
Posted in Family | Tagged chores, dirty jobs, funny, humor, mike rowe | Leave a response