Fitness
You are browsing the Fitness tag archive.
November 21, 2012 | Posted in Family, Fitness, Life and Leadership | Tagged cause, fasting, Fitness, health, hungry | 29 Responses
Today I fast for 24 hours. This is my sixth week of weekly fasting. I promised updates when I started this project. I am sorry I'm so tardy in providing them. Thanks for your support!
Posted in Family, Fitness, Life and Leadership | Tagged cause, fasting, Fitness, health, hungry | 29 Responses
May 10, 2012 | Posted in Fitness, Life and Leadership, National Parks, Travel & Tourism | Tagged adventure, Fitness, hiking, marin headlands, muir beach, san francisco | Leave a response
I was in the San Francisco area all last week for meetings and a presentation. It was a treat to return to the Marin Headlands, and area I fell in love with during my frequent trips to the area in the past for mycoaching courses.
Last week I was headed to the hotel gym when I [...]
Posted in Fitness, Life and Leadership, National Parks, Travel & Tourism | Tagged adventure, Fitness, hiking, marin headlands, muir beach, san francisco | Leave a response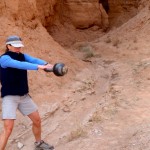 April 21, 2011 | Posted in Family, Fitness, Frontier Life, Life and Leadership, National Parks, Travel & Tourism | Tagged Fitness, goblin valley, kettlebells, training, travel, utah | 2 Responses
Normally I would take a reprieve from training during our family's spring break. After all, I was getting some exercise. We hiked every day. But the hikes were fun and enjoyable — not "training" efforts.
The fact that in less than four weeks I will be hiking from North to South across Zion National Park — [...]
Posted in Family, Fitness, Frontier Life, Life and Leadership, National Parks, Travel & Tourism | Tagged Fitness, goblin valley, kettlebells, training, travel, utah | 2 Responses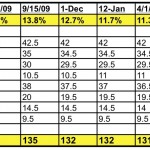 February 1, 2011 | Posted in Family, Fitness, Life and Leadership | Tagged diet, exercise, fat loss, Fitness, lifestyle, nutrition, personal training, training, weight loss | 14 Responses
This is Post 33 of my fitness/weight loss journey blogging.
Today marks The End to something that has been very significant to me: My weight loss journey.
Just under two years ago, I weighed almost 160 pounds and was chubby and pretty lazy. Today, I am smaller than I've been since high school and yet stronger and [...]
Posted in Family, Fitness, Life and Leadership | Tagged diet, exercise, fat loss, Fitness, lifestyle, nutrition, personal training, training, weight loss | 14 Responses
February 1, 2011 | Posted in Fitness | Tagged commitment, elemental training center, exercise, fat loss, Fitness, personal training, weight loss
Greetings from Wyoming. After 22 months, I've reached the end of my weight loss journey. I weighed almost 160 pounds 22 months ago, and today weigh 129. I went from being big and soft and lazy to smaller, leaner and stronger. Everything in my life is better. Everything.
Thanks to all of you who have followed [...]
Posted in Fitness | Tagged commitment, elemental training center, exercise, fat loss, Fitness, personal training, weight loss
December 21, 2010 | Posted in Family, Fitness | Tagged commitment, dedication, elemental training, fat loss, Fitness, training | 2 Responses
If you're like me right now, with only a few days until Christmas and with homemade sweets at every turn, you might be thinking about New Year Resolutions. Most of us are indulging, justifying it by saying, "Once the new year gets here, I'll make changes." For now, pass me the fudge. And the pecan [...]
Posted in Family, Fitness | Tagged commitment, dedication, elemental training, fat loss, Fitness, training | 2 Responses
December 13, 2010 | Posted in Fitness | Tagged Fitness, strength goals, training, weight loss | 4 Responses
This is Post 32 of my fitness journey blogging. Here are links to all of my fitness posts: Post 1,
Post 2, Post 3, Post 4, Post 5, Post 6, Post 7,Post 8, Post 9, Post 10, Post 11, Post 12,Post 13,Post 14, Post 15, Post 16, Post 17,Post 18, Post 19,Post 20,Post 21, Post 22,Post [...]
Posted in Fitness | Tagged Fitness, strength goals, training, weight loss | 4 Responses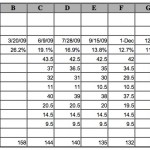 November 7, 2010 | Posted in Fitness | Tagged fat loss, Fitness, personal training, strength | 3 Responses
This is POST 31 of my "fitness journey."For backstory, see Post 1,
Post 2, Post 3, Post 4, Post 5, Post 6, Post 7,Post 8, Post 9, Post 10, Post 11, Post 12,Post 13,Post 14, Post 15, Post 16, Post 17,Post 18, Post 19,Post 20,Post 21, Post 22,Post 23, Post 24, Post 25, Post 26, Post [...]
Posted in Fitness | Tagged fat loss, Fitness, personal training, strength | 3 Responses
September 18, 2010 | Posted in Fitness | Tagged Fitness, goals, training | 3 Responses
This is POST 30 of my "fitness journey."For backstory, see Post 1,
Post 2, Post 3, Post 4, Post 5, Post 6, Post 7,Post 8, Post 9, Post 10, Post 11, Post 12Post 13,Post 14, Post 15, Post 16, and Post 17,Post 18, Post 19,Post 20,Post 21, Post 22,Post 23, and Post 24, Post 25, [...]
Posted in Fitness | Tagged Fitness, goals, training | 3 Responses
September 6, 2010 | Posted in Fitness, Frontier Life, Travel & Tourism | Tagged challenge, Fitness, hardship, man vs. wild, survival | Leave a response
I love survival reality shows like Man Vs. Wild and Dual Survival. They showcase great challenges, stunning scenery and "news you can use." Who knows when I might need to know how to skin and cook a field mouse, or start a fire without matches.
Here's my first effort at my own such show. I hope [...]
Posted in Fitness, Frontier Life, Travel & Tourism | Tagged challenge, Fitness, hardship, man vs. wild, survival | Leave a response