Browse:
Home
/
brooks range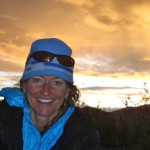 By Shelli on September 14, 2011
This is Post 2 in a series about my recent Alaska Brooks Range backpacking course. It was Aug. 6, the afternoon before the start of my NOLS Brooks Range Hiking course. I was in Alaska, enjoying the comforts of the Ah, Rose Marie Bed & Breakfast, in Fairbanks, while waiting for others enrolled in the […]
Posted in Family, Fitness, Frontier Life, Life and Leadership, National Parks, Travel & Tourism | Tagged adventure, alaska, brooks range, camaraderie, NOLS | 6 Responses
By Shelli on August 4, 2011
I leave you with this video blog as I depart for my NOLS course in the remote Brooks Range and Arctic tundra of Alaska.
Posted in Family, Fitness, Frontier Life, Life and Leadership, Travel & Tourism | Tagged adventure, alaska, arctic circle, brooks range, epic, NOLS | 5 Responses