November 2011
You are browsing the archive for November 2011.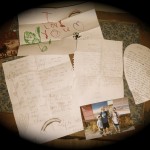 November 10, 2011 | Posted in Family, Frontier Life, Life and Leadership, National Parks, Travel & Tourism | Tagged adventure, longing, motherhood, NOLS, parenthood | 8 Responses
Hi. My name is Shelli. I'm 43 years old. I have been married to Jerry for almost 20 years and we have three young sons, Wolf, 11, Hayden, 9, and Finis, 4.
This is a post about a wife and mother's longing. It is also [...]
Posted in Family, Frontier Life, Life and Leadership, National Parks, Travel & Tourism | Tagged adventure, longing, motherhood, NOLS, parenthood | 8 Responses
November 1, 2011 | Posted in Life and Leadership | Tagged conscious, goals, leadership, strategy, unconscious | 2 Responses
I wake up at 4 am three mornings a week to go to the gym and work out. Many people ask me, "How do you get up at 4 am to work out?" This question is not surprising; 4 am is crazy early. And of course the reasons I do it are numerous, but include [...]
Posted in Life and Leadership | Tagged conscious, goals, leadership, strategy, unconscious | 2 Responses