Archives by date
You are browsing the site archives by date.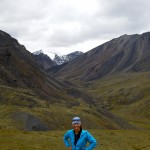 By Shelli on August 26, 2011
Greetings from my beloved Frontier of Wyoming. I am re-entering upon returning from my National Outdoor Leadership School (NOLS) course in Alaska's remote Brooks Range and Arctic National Wildlife Refuge. For two weeks, I backpacked a country that is so big and unending and wild and spectacular that there is no way I can adequately […]
Posted in Family, Fitness, Frontier Life, Life and Leadership, Travel & Tourism | Tagged adventure, alaska, backpacking, epic, hiking, leadership, NOLS | 13 Responses
By Shelli on August 4, 2011
I leave you with this video blog as I depart for my NOLS course in the remote Brooks Range and Arctic tundra of Alaska.
Posted in Family, Fitness, Frontier Life, Life and Leadership, Travel & Tourism | Tagged adventure, alaska, arctic circle, brooks range, epic, NOLS | 5 Responses