Archives by date
You are browsing the site archives by date.
By Shelli on May 18, 2010
Recently, the foothills above Lander, WY, received three feet of snow. In mid-May. What this meant was instead of a trailrunning outing, I went on a snowshoeing outing. It was a stellar bluebird day! Enjoy!
Posted in Fitness, Frontier Life, Travel & Tourism | Tagged Fitness, lander, snowshoeing, wind river range | Leave a response
By Shelli on May 16, 2010
Well dang nabbit. I recently recorded this video clip in an effort to win a new bicycle from Bicycling Magazine. Unfortunately it didn't make the cut. But it was a hoot to make and I'd do it all over again. Enjoy!
Posted in Family, Frontier Life | Tagged bicycling, biking, funny, spoof | 1 Response
By Shelli on May 12, 2010
This is POST 26 of my "fitness journey." For backstory, see Post 1, Post 2, Post 3, Post 4, Post 5, Post 6, Post 7,Post 8, Post 9, Post 10, Post 11, Post 12Post 13,Post 14, Post 15, Post 16, Post 17,Post 18, Post 19,Post 20,Post 21, Post 22,Post 23, Post 24 and Post 25. […]
Posted in Fitness | Tagged elemental training, Fitness, personal trainer, steve bechtel | 5 Responses
By Shelli on May 11, 2010
It's spring in Wyoming. Which means there is snow still falling. As I write this today (May 11), we're getting pounded with snow. The forecast calls for up to 20 inches of snow in our foothills. Boo hoo! I know, the optimist would say we need the moisture, and everything will be so green come […]
Posted in Fitness, Frontier Life, Travel & Tourism | Tagged Fitness, lander, running, trail running, wyoming | 2 Responses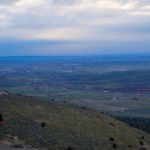 By Shelli on May 3, 2010
This is POST 25 of my "fitness journey." For backstory, see Post 1, Post 2, Post 3, Post 4, Post 5, Post 6, Post 7,Post 8, Post 9, Post 10, Post 11, Post 12Post 13,Post 14, Post 15, Post 16, and Post 17,Post 18, Post 19,Post 20,Post 21, Post 22,Post 23, and Post 24. Howdy! […]
Posted in Family, Fitness, Frontier Life | Tagged elemental training, endurance, Fitness, tahoe 50k, trailrunning, training | 3 Responses