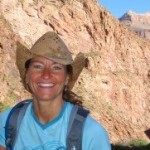 Hi there! I'm sorry it's been so long since I've written. I have not forgotten about you, or this blog. It's just that a lot of my attention has been on developing my work and mission at Epic Life Inc.
This post is an effort to revive this blog. And I'm going big. It has been a dream for our family of five to take a big international trip. I am ecstatic to report that we're making the dream come true. Our passports are in. Our plane tickets are booked. Our Eurail passes are purchased. Some 27 nights of lodging are booked, and a few select tours are booked. On May 22, these country bumpkins will be in Europe. For a month! (Gulp.)
We will explore 7 countries, and our itinerary includes world-class cities, cultural and historical attractions, awe-inspiring hikes and scenery, some ocean and beach leisure, and of course lots of epically delicious foods.
Our itinerary includes London, Paris, Munich, Switzerland, Cinque Terre, Rome, Vatican City and Portugal. The trip planning process is a meaningful part of this journey we're about to take. Many of our dinner and hiking conversations these days are centered on the destinations we plan to visit. The boys have researched activities and attractions, as well as populations for all of the cities, and countries we'll be visiting. It's been a great, "new" conversation we're all enjoying.
Following are some the highlights of our upcoming Epic Itinerary. (We have 28 days for all of this, so there is a lot of space and downtime built in for each of the destinations. We plan to immerse ourselves in each of the places we visit, at a pretty slow pace, before moving on to the next…)
LONDON, UK: The Taming of the Shrew at Shakespeare's Globe Theatre, Hampton Court Palace, Thames River Boat Cruise, Tower of London, and the British Museum.
MUNICH, GERMANY: Neuschwanstein and Hohenschwangau castles, Dachau Concentration Camp, Beer Gardens, Marienplatz, and Deutsches Museum.
SWITZERLAND: We have 4 days of epic hiking planned – 2 in the Lauterbrunnen area and 2 in the Zermatt area – that will provide views of the Matterhorn, the Eiger, several waterfalls, and more. We are really looking forward to hiking in the Swiss Alps!
CINQUE TERRE, ITALY: We will enjoy  one day on the beach and exploring this coast, and another day hiking the famous, 13-mile hike through the five villages that make up Cinque Terre, which since 1999 has been designated as a national park. The boys hike 13 miles every now and again in Wyoming, and there are no villages offering gelato and genuine Italian foods every few miles. For once we probably won't have to pack our pockets with treats to spur the boys along.
ROME, ITALY: We are so excited for Rome! We'll tour the Colosseum, including the arena and underground areas and the Forum. On another day, we'll have a private guide to tour the Vatican, Sistine Chapel, etc., and on another day, we'll take a small group tour of the Crypts and Catacombs. We plan to eat lots of epic pasta while in Rome, too.
PORTUGAL: We'll spend two days in Lisbon, before heading to Lagos and its beautiful, low-key beaches for 5 days of leisure, before heading back to London and returning to the U.S.
Thanks for reading, and I hope you'll check back now and again. I will be writing more about the upcoming Europe Epic Adventure, as well as other adventures in the meantime.
---
By the way, if you'd like to read some other posts I've written in the last several months, here are some of the best ones:
Mother-Son Rite of Passage Expedition — One of My Best Ideas, Ever
My Most Spectacular Failure Was A Gift
Whew! We Survived Our Epic Wellness Week!